Your own website
A professional website for your car business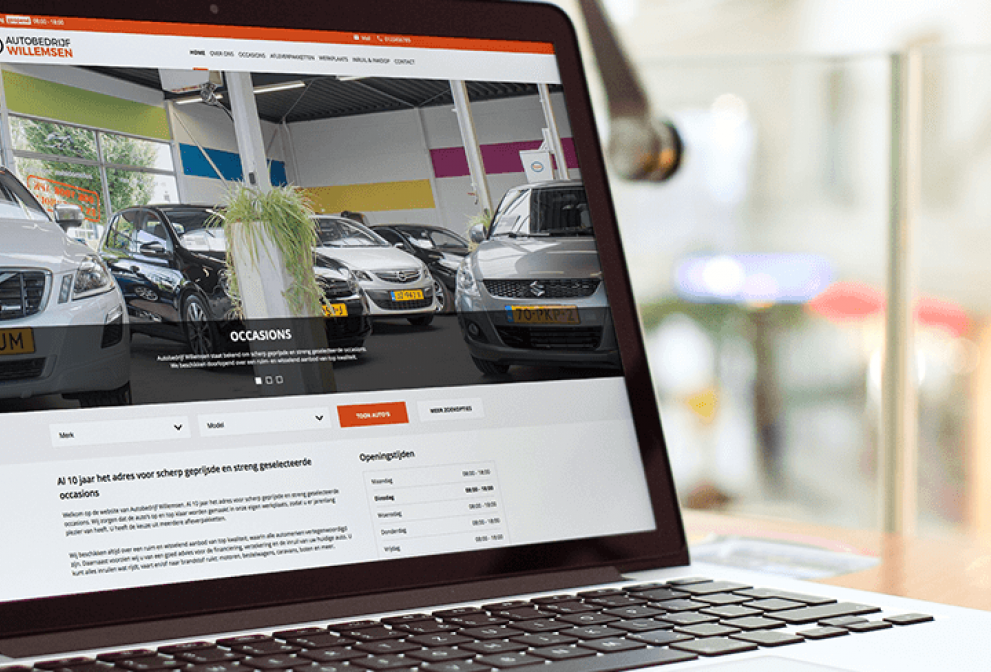 Why have your own website via VWE?

More and more car buyers and owners are looking online. A professional website for your car company is therefore indispensable. Not only to give your current customers a good picture of your company, but also to get potential customers to your company. A website gives a first impression of your company, activities and offer.

A VWE website has a professional appearance and your visitors are encouraged to contact you. The website is also easily visible on smartphones and tablets. In addition, your website is easily found in search engines such as Google. And the biggest advantage is that we largely arrange the realization of a website for you, so that you can focus on your car company.
Current stock: Always your current stock online by linking with advertising via My VWE
Search engines: Well equipped for search engines like Google
Responsive: Website suitable for desktop, tablet and mobile phone
Content-ready: Delivered including texts and photos, which can be edited later
Examples 
You can choose from various examples and we adapt these to your house style. This makes every website unique! Curious about the different examples? Check them out here.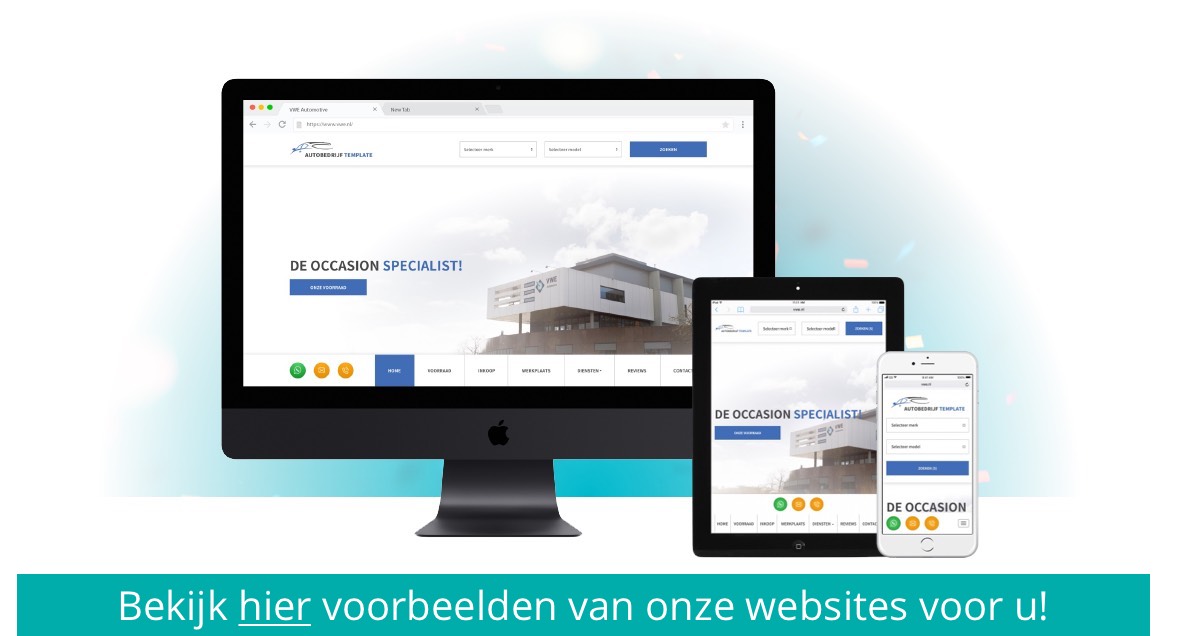 How does it work?

You provide the necessary information - such as your services, opening times and house style - and we ensure a suitable design and rapid delivery of the website. If desired, with your own photos and texts, but this is also possible with ready-made photos and texts, so that your website can go live immediately. 

You can also choose the number of pages yourself, so that you can also fully promote your workshop services, for example. In addition, you indicate whether you want to show occasions on your website, so that your visitor can always see your current offer. As soon as the website is completely to your liking, we will put it live. We also offer you support after going live. For example, by advising you on smart action buttons that encourage your visitor to contact you. In this way, together with you, we will continue to improve your website!
The costs

Against a favorable rate, you can have your own website. You pay a one-time fee of €149 for the construction of the website, your domain name, and an email address. Subsequently, you pay monthly, depending on the subscription you choose. With the Optimal subscription, you pay €18.95 per month for hosting* and service. With the Active subscription, you pay €22.95 per month, and if you opt for a standalone subscription without the advertiser module, you pay €45.95 per month for hosting* and service.

*) *) The hosting includes: 1 e-mail account (Hosted Exchange) of 50GB, where mail, contacts and calendar are synchronized.
Want to know more?

Would you like more information about the Module Website? Fill in the form below and we will contact you within 2 working days.
Contact about your own website